Types of Heaters - PASADENA TEXAS
We Can Service Your Water Heater Regardless of Which Type You Choose

Are you and your family considering a tankless water heater? Depending on your needs, this can be a great choice. These units are very small, so don't worry about taking up a lot of space in your garage. They are also energy efficient, so you don't have to worry about an increase in your energy bill each month.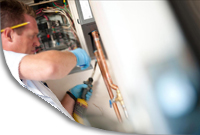 Another option is a gas water heater. This is a more traditional option that has been around for a long time. These are large tanks that will sit in your attic or garage. They are able to pump out a lot of hot water at one time without needing to recharge. This means that you will not have to deal with having to wait for hot water.

Perhaps you are interested in an electric water heater. These are another great option depending on what you need. These are becoming a more popular option nowadays. Many of them also come with a digital screen. This means that you can control your tank much easier without having to deal with knobs and dials.

Whether you need a heat pump water heater, gas heater, or any other type of tank, we can help you. Are you not sure which option is the best for your home? Plumber Pasadena Texas can help. Give us a call if you'd like to speak to a professional. We can consult with you and help you pick out the perfect product for your home.