Professional Toilet Repair - PASADENA TEXAS
Clog Removal - Leak Repair

Are the toilets in your home malfunctioning? Whatever the problem may be, Plumber Pasadena is ready to handle any toilet repair you need. Our team of plumbers have years of experience with these units and can fix any problem you throw at us. Our services are ready to help improve your home.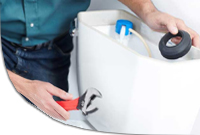 Is toilet repair not an option for you? If that is the case, this is no problem. Sometimes getting a new unit is necessary, and Plumber Pasadena can help you with that. In addition to our repair service, we also offer toilet installation. Our employees are more than ready to discard your old unit and replace it with a brand new one.

Is your toilet clogged? This is usually a simple toilet repair, but not always. Most of the time a plunger is all you will need to fix this, but sometimes it's not enough. When this doesn't work, you will need the help of a professional service like Plumber Pasadena.
It can be very frustrating when you experience problems with your bathroom toilets. Toilet repairs can be a big hassle. Are you expecting to pay a lot of money to have your unit fixed? This is not something you have to worry about if you let us take care of your repairs.