Pipe leak detection - PASADENA TEXAS
We Can Find Your Leaks in No Time

Do you fear that you may have a leak in your sewer pipes? This is one of the biggest portions of your plumbing system, so it can be tough to notice. You may be afraid that there is no way to properly find your leak, but we have a solution. Plumber Pasadena Texas offers professional pipe leak detection.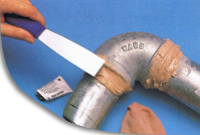 Many people do not realize that a leak can occur anywhere in your system. You may have a plumbing pipe leak without even knowing it. If you are concerned about this problem, call Plumber Pasadena for help. Our pipe leak detection service is able to find any leak in your home.
In addition to pipe leak detection, we also offer burst pipe repair. A broken pipe can be a big problem. Not only will it cause your water bill to skyrocket, but it can also cause foundation problems in your home. This is a problem that needs to be fixed immediately when noticed. If you need a professional company to fix this, call Plumber Pasadena. We are available to fix this problem 24 hours a day, 7 days a week.

Our professional pipe leak detection technicians are committed to making sure your pipes are in great condition. When we are done, we leave your pipe clean, leak-free, and completely working like new. You can trust our professionals to get the job done when you call us for help at any time.