Professional Drain Service - PASADENA TEXAS
Drain Installation - We Can Help You Keep Your Drains Clean

Plumber Pasadena offers professional drain cleaning to our customers. Are your drains clogged? Call us today for quick help. We can dispatch a drain cleaner to your home to take care of your problem. Your clog is no match for our expert technicians equipped with top-grade technology.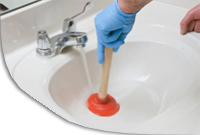 A clogged drain can be a big hassle. Blockage in your drains will cause them to drain slower. This will cause your plumbing appliances to back up and retain water. Nobody wants to go through this problem, but our drain cleaning service offers an easy solution.
If you're looking for a quick, affordable solution to your problem, look no further.

Our drain services are professional and reliable. We use a camera to identify exactly where the clog or blockage. After we pinpoint the location, we use professional equipment such as a drain snake and cutter to clean your pipes. This equipment allows us to eliminate clogs effectively and efficiently. You are getting the best drain cleaning possible when you allow Plumber Pasadena to handle it.

Our service does not stop at drain cleaning. We can also provide you with a shower drain installation. Perhaps you are sick of water building up while you take a shower, and you want it to drain properly.